GB-Team Proudly Present for @ll USERS, This New Test Product
GB-KEY Lite
GET IT FAST and Profit of all FREE Features
Test Periode is LIMITED
---------------------------------------------------------------------
*** FREE FEATURES in this ver 1.0 ***
- ALCATEL -
- OT-1060
- OT-1063
- OT-2040G
- OT-2050A
- OT-2050G
- VM-575
Get UNLOCK CODE WITH IMEI
HUAWEI
- G 20
- G 3501 / G3501 (America)
- G 6005
- G 6151
- G 6608
- G 6620
- G 7210
- G 7510
- G 7600
- Orange Panam
- Y 220
Get UNLOCK CODE WITH IMEI
- M4 SS -
- SS 1050
- SS 1060
- SS 1070
- SS 1080
- SS 1090
- SS 660
- SS 880
- SS 990
Get UNLOCK CODE WITH IMEI
- ZTE -
- BLADE 3
- KIS PRO
- ORANGE ZALI
DIRECT UNLOCK WITH SIMPLE USB CABLE
---------------------------------------------------------------------
Frequently Asked Question
- What is GBKEY Lite ?
- It is a Software that need User/pass only to Unlock your phone Instantly.
-This is a free sw ?
-It is Free for a limited period to permit to all users Test it and check features.
-How Can you Get this Software ?
-Just download from the End of this Thread and start Unlimited Fast Unlock
- Want to know more about this .?
- Post your suggestion, questions, test, report in this Thread and we will replay.
SCREENSHOT of SW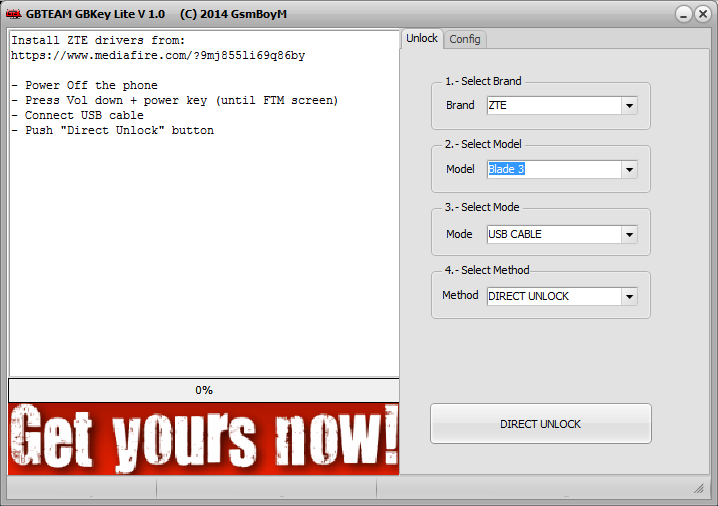 DOWNLOAD GBKEY Lite
All these Features Exist Already in GB-KEY, so this is a TEST Before BUY our Product.
Waiting your Comments, Ideas, posts ONLY in THIS THREAD.
Test Period is Time LIMITED, so Test this SW Fast and get Profit before it is Over